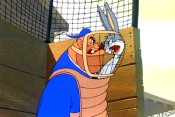 I am a huge fan of coming up with a funny-yet-completely-impractical idea and then actually doing it, especially when it snowballs into excruciating absurdity. Which is why I burst into laughter many times while reading the painfully exhaustive 5500 word technical analysis of Bugs Bunny's legendary baseball game against the Gashouse Gorillas. Here's a snip:
What can modern baseball analysis tell us about the talent of Bugs Bunny? Unfortunately, we are faced with several problems:

* This game provides us with an extremely limited sample. Bunny plays for only five innings.
* The level of competition is never established.

As the first can't be overcome, let's deal with the second. From the level of fan interest, it is fair to assume that the players involved are good enough to be a major draw: a semi-pro game of local celebrities would not (and still does not) draw a sufficient crowd to pack in fifty thousand fans who cheer wildly at events (for one example, see the attendance at MLB All-Star Celebrity Softball games). The best-fit explanation is that the Teahouse Totallers are a collection of former greats of baseball, playing against a team of current pro and semi-pro players drawn from the New York region.
Check out the full article here.
And here's the cartoon itself:
[via Cartoon Brew]