Just when you thought accordions couldn't get any nerdier: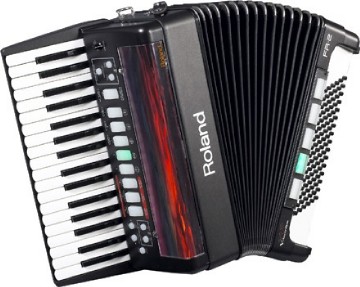 This would be perfect for Kraftwerk to do a cover of Lady Of Spain
The Amazing Ultra-Light V-Accordion
Features

The FR-2 V-Accordion offers the incredible digital advantages of Roland's Physical Behavior Modeling technology, providing true tone and characteristics of the world's best accordions, but they are significantly lighter than previous models. Perfect for students, stage keyboard players, and traveling musicians.

* Piano-type keyboard
* PBM (Physical Behavior Modeling) enables the true tone and expressive characteristics of the world's finest accordions
* Additional sounds onboard, including piano, organ and strings
* Eight user programs for instant storage andrecall of your favorite settings
* Lightweight for young students and travelingperformers
* Pad function for triggering percussion sounds and rhythms
* Song function for "minus one" play-along fun
* Battery powered for convenience and portability
Check it out on Roland's Website.
[via Engadget]