The Booberry Alarmclock posted some photos of a ventriloquist doll (it's no dummy!), and this reminded me of this public safety tip: How to tell if your ventriloquist puppet is evil: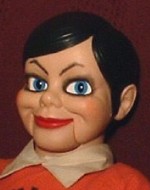 1. Make a large, roaring fire.
2. Within earshot of the doll say "Well, I think it's about time I get rid of this ventriloquist doll … it's not doing me any good no more".
3. Pick up the doll and say "I think this will burn up real good in the fire"
4. Walk towards the fire.
5. Make like you're going to throw the doll into the fire on the count of 3.
At this point, if your doll is evil, you'll feel a bite on your arm, or a punch, or some other violent reaction. The doll will try to get out of your grasp, and, if successful, will run away, most likely with an evil cackle out of it's smiling mouth. Be careful … he's not fleeing from you; he's only looking for a place to hide in order to attack you later.
If nothing happens, your doll is probably not evil. You now have 2 choices: Throw it into the fire anyway, or put it away.
Warning: If you do not throw the doll in the fire, it is suggested that you take a knife with you to bed. It's possible the doll is evil but knew you were testing it, and is waiting for you to go to sleep before attempting to strangle you.