Here at Junkyard Clubhouse we love all things junkyard, and right at the top of our list are Junkyard bands.

And Fat Albert has one of the rockin'est Junkyard bands ever. The groovy kids record blog Way Out Junk has gifted the Internet with not one, but TWO rips of classic Fat Albert and the Junk Yard Band albums: Creativity and Rock N' Roll Disco.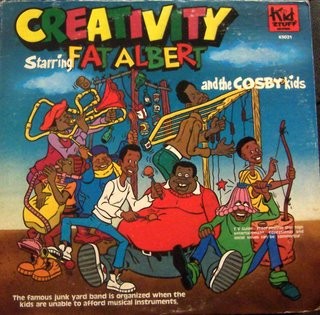 The famous junk yard band is organized when the kids are unable to afford musical instruments
Listening to these records will convince you that real-life junkyard instruments can sound just like the smooth sounds of studio musicians! Actually, while the pictures of the Junkyard band are pretty sweet, there's not much in the way of classic Fat Albert music on either of these albums. The Rock N' Roll Disco in particular is pretty bad. Hmmm. Now I'm wondering why I even bothered bringing it up. Here, watch the opening of the Fat Albert Show instead.
posted in Animation, Music, Television | Comments Off