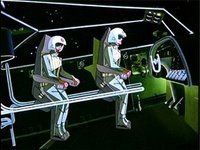 The wonderful Disney Blog 2719 Hyperion has a great piece on the Man In Space episode of Walt Disney's Wonderful World Of Color, (the episode turned 52 just a few days ago). The episode is a peek into what the 1950s envisioned the future of space travel to be like. It features both live action lectures by Disney animator Ward Kimball and rocket scientist Wernher von Braun, as well as some animated futurist visuals that are not to be missed. 2719 Hyperion does a better job than I do at really coveying the impact of this midcentury science film:
Perhaps the most interesting footnote about Man in Space is the largely unnoticed impact it had on the development of the U.S. space program. President Eisenhower was so impressed with the program, he requested a print of the film to screen for high-ranking Pentagon officials, which was evidently instrumental in kick starting the country's space initiatives.

Check out 2719 Hyperion's post on Man In Space. If you're nuts about it like I am, be sure to pick up the Tomorrowland DVD, which contains Man In Space along with a few other not-to-be-missed Space Age edutainment shorts from Disney's timeless TV show.